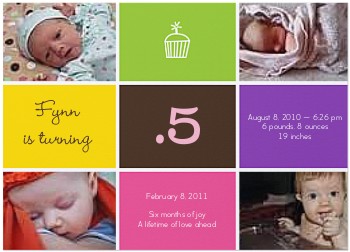 Presto Blocks Girl Birthday Invitation

Six months is coming up so fast. We made this card because we (still!) haven't sent out announcements. It's a lovely way to catch people up on the glory that is Fynn. I just hope people don't think we're soliciting gifts. And I'm letting Shutterfly advertise on my site because I can get $25 off my next order for doing so.
*No, I'm not the genius who thought of celebrating .5; that would be the highly talented mama over at
And Evie Makes Three
.